If you are spending more than a week to plan and outline your next fiction book, then you are wasting time and limiting the size of your future book royalty checks!
Exclusive Offer for Fiction Plots Written as a Series
You Are Just Minutes Away From
Discovering Inspiration for
Your Next Fiction Book Series…
Romance, Mystery, Historical, Fantasy, Paranormal, SciFi & More
Today, You Are Going to Get Immediate Access to Hundreds of Plots, Designed Specifically For Authors Intent on Creating a Fiction Book Series.
You Will Also Get Immediate Access to New Sets of Plots for a Future Book Series, As They Are Completed.
Dear Fiction Author,
How many times have you found yourself staring at the computer screen trying to figure out what story you were going to tell next?
How often do you find yourself reading other people's stories to see if you can find the spark for your next fiction story?
How much time do you waste waiting for inspiration from the wordsmith gods?
Unless you are a writer, who has a deep well of creativity to pull from, you probably spend far too much of your time developing your story ideas.
And, Here Is The Problem With That…
We cannot collect book royalties on books not yet written…
In order to get paid for our time, we actually have to finish writing and publishing our book!
And when we do get paid, they won't pay us extra for the time we spent staring at a blank page!
If we could actually get paid for staring at a blank screen, I'd be a millionaire already.
Pre-Written Fiction Plots Provide the Structure &
Foundations Of Stories You Can Make Into Your Own
A well-written plot will provide enough information to spark your creativity, without giving so much detail that you will feel stuck in someone else's story construct.
A strong plot will:
Define the characters;
Explain the conflict that your main character will want to overcome. This will drive your story;
Map the turning points in your story, leading the character to resolving the conflict of the story;
Demonstrate how the main character changes on the journey to the conflict resolution;
Hint at the setting that supports the story;
Describe how the conflict was resolved at the end of the story…
The Greatest Stories Ever Told…
The greatest stories ever told share similar story plots…
Consider the Heroes' Journey, for example…
Star Wars;
Lord of the Rings;
The Matrix;
Harry Potter;
Percy Jackson…
Each of these stories tell the story of a young man, who will overcome overwhelming obstacles to achieve greatness and save mankind from the evil in the world…
The plots behind these stories are mostly the same, but the final story is different as night and day.
This is what a great plot writer will give you…
The capability to tell an awesome story in your own personal way — in a way that you can make the story your own.
Another Common Thread of
The Greatest Stories Ever Told…
Occasionally, we may opt to give away our book to find an audience for the stories that we tell…
If you have only one book in publication, that would be considered by many authors to be a fool's errand…
But, when we have created a book series, giving away the first book can be very profitable for us.
The goal is to attract an audience to our first book, and convince them to buy the other books in the series to "get the rest of the story."
When done well, we will be able to make the bulk of our royalties from the books that follow the first book in the series…
Star Wars was produced in six episodes, generating $4,382,359,868 in worldwide sales;
Lord of the Rings was made into a trilogy, creating $2,917,506,956 worldwide box office sales;
The Matrix was also a trilogy, resulting in $1,000,989,142 in box office receipts;
Harry Potter resulted in seven books and eight movies. Box office receipts created $7,723,431,572;
Percy Jackson has so far resulted in two films, with the third in development. Its earnings on the first two films have been $426,285,499.
And this is why we should strive to create a series of books, as opposed to a stand-alone book…
After Just Two Years, She Is Earning a Half
Million Dollars Per Year in Book Royalties!
A friend of mine is publishing all of her new books in one of two book series… To date, she has published 19 books total in both of her book series… And now, just two years after she started writing fiction books, she is making a half million dollars a year in book royalties!
This proves a concept that most businesses rely upon… "It is cheaper and more profitable to sell more products to existing customers, than it is to go and find new customers."
Pre-made book plots are a great start for any book author looking for a great story to tell…
Pre-made book plots, assembled as a plot series, is what can give you the ability to create outstanding profits for your book publishing business!
Introducing
FictionPlots.com
We have hired the best fiction plot writers money can buy to ensure that we are able to provide you access to fiction plots you can use to create fiction novels that sell…
But, rather than asking our writers to create stand-alone stories, we have advised our plot writers to create a series of ten (10) book plots that you can use to create an outstanding story that you can develop into a compelling book series.
Each fiction plot includes between 2,500 and 3,500 words, created in the following format:
OVERVIEW: This is the essence of your story and sums up what it is about in two sentences or less.
SHORT SUMMARY: This section describes in greater detail the basic storyline.
CHARACTER LIST: A list of the main characters (protagonist, antagonist, etc.).
CORE CONFLICTS: The core conflicts your characters face.
STAKES: What your characters stand to lose, and what is at stake for them.
10 CHAPTER OUTLINE: A step-by-step breakdown of each chapter with a short summary detailing what each chapter includes.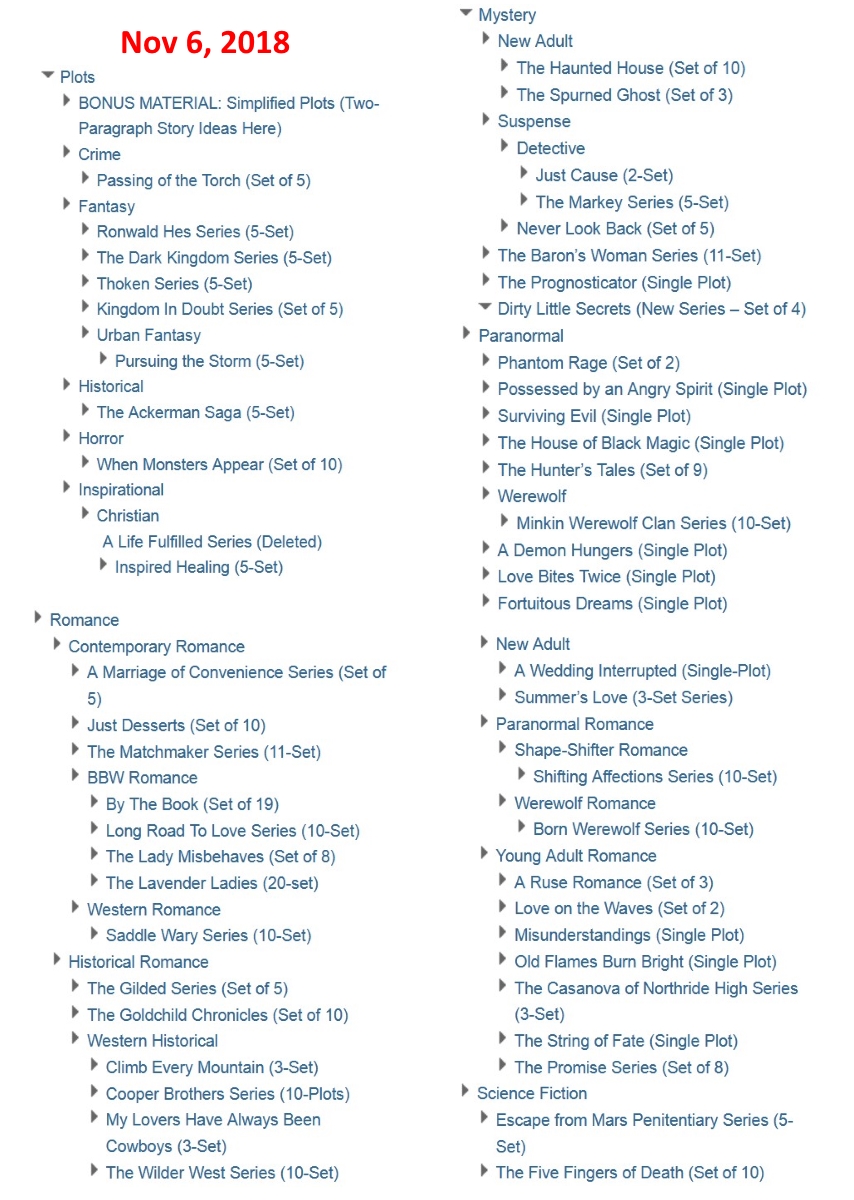 Take a Sneak Peek at Our
Exclusive Collection of Fiction Plots
Written in a Series of Related Stories
Most plot creators ask you to buy their fiction plot packages sight unseen…
But, I don't like doing business like that…
Rather than asking you to trust that my plots are good, I want to give you a sneak peek at what you will find inside.
In the images shown below, you will see the first plot in the "Cooper Brothers" historical romance plot series:
More About the Cooper Brothers Series
Ten boys were born to a plantation owner in Charleston SC.
The boys were coming of age as the Civil War erupted between the states. The older boys went into law enforcement, while the younger boys generally took different paths.
This series of ten stories follows the lives of all ten boys, from 1860 to 1879.
It documents the love affairs and weddings of the first nine boys, a few of whom who thought marriage wasn't in their future.
As the story progresses, the Cooper Boys always find themselves in the right place at the right time to build considerable wealth.
Two of the stories are prefaced on a mystery that must be solved. This allows the younger brothers to call on their older brothers in law enforcement to join the storyline.
In the last book, the oldest son, from the second generation gets married, after taking employment with the family's extended business corporation.
The women who join the Cooper boys in marriage are typically strong, mischievous women, who can typically hold their own in a bar fight or in sticky situations with the criminals of the wild west.
You will love these characters, as they are people who have a strong character, and they are committed to do the right thing, no matter the situation.
If You Like What You See…
There Is Only One More Thing To Do…
Choose the plan that makes the most sense to you…
We are offering a choice of packages to you.
You can buy the "Cooper Brothers Plot Series" as a stand-alone purchase…
OR, You can take advantage of our membership program and get access to all of our new "series plots" as they are uploaded into our site.
About Our Plot Authors
Our plot authors have a wide-range of experience in the fiction industry. All of our plot authors are published fiction book authors, with the exception of K.S. who has spent two decades privately writing plots for a specific published author.
K.S. produced plots for a professional fiction author, as her assistant, for more than twenty years. She has also started and facilitated two creative writing groups in her local community. In addition, she has also run summer writing camps for children, ages 7-12.
When I hired her, she told me:
I am a talented developmental editor. Everyday I am doing this in my mind as I travel through life. I see stories and story lines in every random person I see.
M.H. has published 30 romance novels in the last decade. She lives and breathes romantic fiction.
Here is what she told me when I hired her:
I plan out every story I write in great detail, and I have also prepared summaries and outlines for co-writers.
With the exception of K.S., all of our plot authors have published fiction novels in their own names.
They are all published authors in their own right, and they understand what it takes to tell a great fiction story.
F.A. recently told me that this program was "the best thing to have ever happened to her." She went on to say that her own writing has improved considerably as a result of her participation in this program, and she has been able to explore so many more genres than she would have considered doing before she came to work for us.
When I first met F.A., she was working on her second Young Adult Romance novel. Now she has eight full-length novels in her Young Adult Romance series. And this program has given her so much opportunity to explore other genres as a writer. She said that she had learned more in the past three years working with this program, than she had in four years of university training.
More About the
FictionPlots.com Membership Option
We currently have several plot authors and a webmaster on our payroll. All are people with extensive experience writing fiction.
We have advised our writers to create sets of 3, 5, 7 or 10 plots in the following categories: romance, historical, science fiction, fantasy, paranormal, and mystery. We have also offered them the option of extending any particular series beyond ten stories.
As each plot author finishes his/her work, we upload those new plot series to the membership area of the website.
Since our monthly membership plan sells for a lot less than what most people pay for a single set of plots, you will be getting loads of extra value from our program.
Four years after launching this program (November 2014 launch), we so far have:
310 full-length plots (2500-3500 words each)
Most plots are in series plot sets
Bonus Story Ideas

12 Mystery Outlines (Separate from what is included in the regular plots section)
272 Two-Sentence Story Starters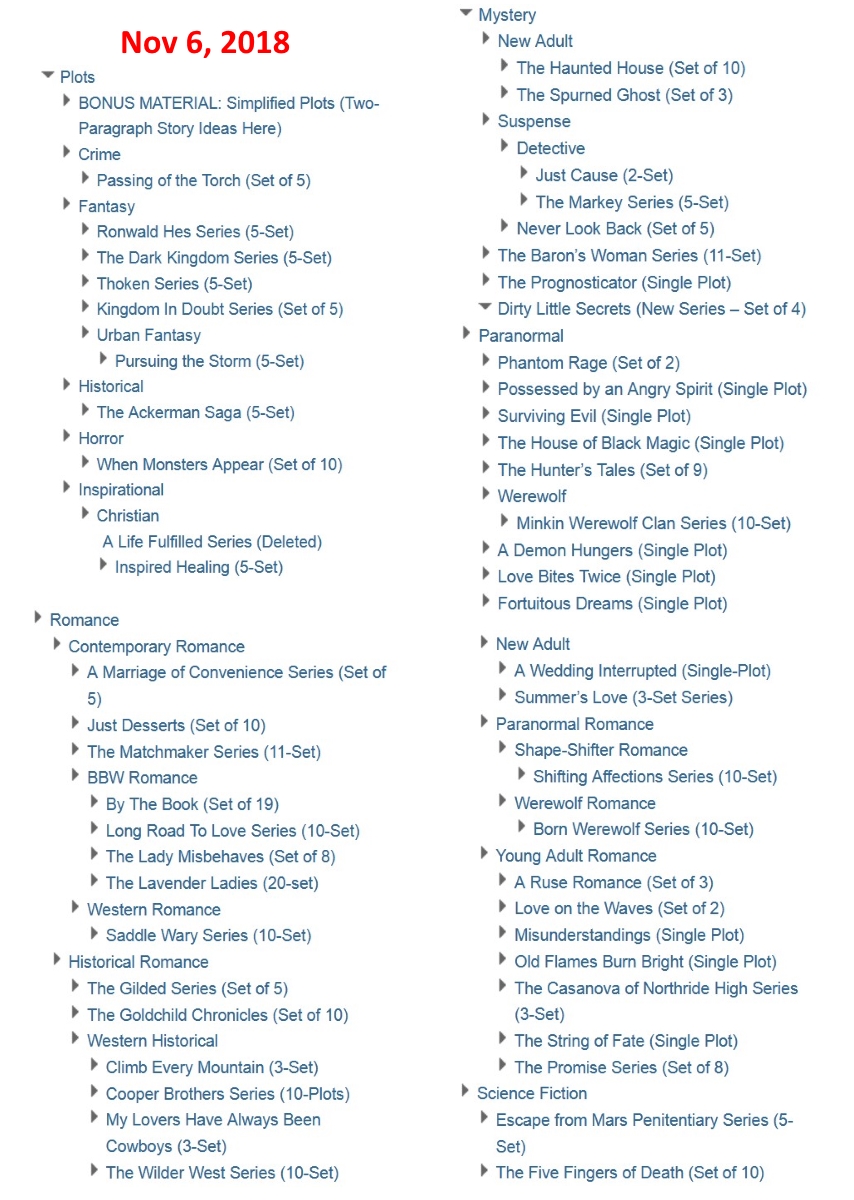 How Others Are Using This Program
This program is attractive to anyone who struggles with writing fiction or wants to save time by focusing their efforts on the storytelling instead of story planning.
Many fiction writers know that they want to tell fun and interesting stories, but they literally have no idea where to begin.
The hardest part it seems is that first step – deciding what story they are going to want to tell.
With this program, our members can decide in what genre they would like to tell their stories, then they can start reading the plots we have available in that genre and others.
Once they have selected the story they want to tell, they can and should adapt the plots we give them – changing the names of characters and places in the settings, so they can tell a unique version of the story concept we have given to them.
Here are some interesting ways our customers have used the plots we provide to them:
One lady extracted plot #6 from a 10-plot series, then she turned that single story into a series of 6 books.
One guy hires ghost writers to write stories for him. He writes stories in the Clean Romance genre, but he typically uses plots he finds in the Contemporary Romance and Mystery genres to work as the foundation for the stories his ghost writers create for him.
One lady selected 5 plots in a series of 8 plots, then she built her own book series using the plots that she most enjoyed reading.
One lady takes Contemporary Romance plots and converts them to Historical Romance stories.
Another converts Historical Romance plots to Fantasy stories.
Still another takes Fantasy plots and changes them up so that she can tell Science Fiction stories.
One lady found her favorite series of fiction plots, and she took the characters from her existing book series and dropped them into the plots that she had gotten from our website.
There is another fellow who takes the plots exactly as he finds them on our website, copies them to a Word Doc, then prepares them for his ghost writers. Once he copies the plot to a Word Doc, he does "Find & Replace" to change the names of the characters, then he sends the plot directly to his ghost writers who write the stories he sells.
Many folks just pick a plot series they like, then they start writing a book based on the first plot in the series. After releasing the first book, they take the second plot in the same series and start writing. Many people find that each of our plots are perfect just the way they are, and they use the general outline as we gave it to them to create their own books.
Through the Fiction Plots program, we give you an extraordinary assortment of fiction plots from which you can develop your own stories.
Our team, of very talented plot writers, has created over 300 full-length plots in 70 different series, in 24 different sub-genres.
Their creative work will serve you well as you go forward, helping to lay a solid foundation upon which you will be able to build your own publishing empire.
Frequently Asked Questions
Question: Can I change the names of the characters and the setting where the stories take place?
Answer: In fact, we recommend that you do. When you are buying book plots, the goal is to get a story outline from which you can create your own stories. We strongly recommend that you change the names of the characters, the settings, and anything else you need to change to make these stories your own.
Question: Will there be additional genres covered in the membership site, beyond those listed?
Answer: Yes, when possible.
For the initial set of plots, we wanted to cover romance, historical romance, paranormal, fantasy, science fiction, and mystery.
The primary challenge for us has been first to find competent writers. The second challenge has been to find writers who are comfortable creating plots outside their chosen genres.
We give our writers great latitude to create the kinds of plots they think would be interesting to them. So, they often bounce between genres in an effort to explore the stories they would like to see told.
Question: How many plots should I expect to find in each plot set?
Answer: 3 to 20. Each series is being mapped out with ten chapters per plot, 3-20 plots per series.
Currently, two of our plot series are delivered in 20-plot sets.
Question: Will you offer 6-month membership options as well?
Answer: We won't be offering a six-month plan, but we do offer a Monthly, Quarterly and Yearly plan, and a Platinum option (one-time payment) at very affordable prices.
Question: What formats are the plots delivered?
Answer: All of the plots are loaded into the website as HTML pages. We have done it this way to make it easy for you to copy-and-paste the parts of the plots you want to take — be it the entire plot or pieces of the described plot.
As a result of requests by a number of our subscribers, we have also tried to include DOC and PDF formats for plot sets that have been completed. We haven't kept up with this part, but it is just as easy for you to copy from the web page and paste the plots into a Word document.
Question: What if you are creating plots in genres I am not interested in writing?
Answer: Most plots can be adapted to other genres, with a little bit of creative thinking on your part. Several of our clients do so on a regular basis.
One person I know converts contemporary romance and mysteries into Christian romance. Another converts historical romance into fantasy.
Question: How many plots will I get access to within this membership?
Answer: Right now, there are 310 plots (11-06-2018). More plots are being added as often as we are able to do so.
Question: How many plots will be available to me each month?
Answer: Everything you have seen previously will be available to you so long as you remain a member.
Our writers send in plots as they get them finished, then we will upload a stack of plots to the website as our schedule allows us to do so.
Some months we add just a few plots and other months we add dozens of plots.
It varies, because we give our writers the flexibility to produce according to the time they have available to do so.
All of our writers create plots for us, when they want to take a break from writing their own novels.
As a result, some months they will just produce 2 or 3 plots, in other months, they might kick out 20-30 plots.
Question: Why are your plots more special than those I can buy from others for about twenty bucks?
Answer: Most sets of fiction plots that you will find elsewhere are sold in packages of ten. I have seen those ten-sets sold for anywhere from $12 to $50 per set. All are within a single genre, but they are ten stand-alone plots.
Most of the plots provided within the Fiction Plots website are packaged as "series plots", meaning that you can use them to develop a book series of 3-20 books.
Question: What about duplicate content? Won't I get banned from Amazon if I publish books written with your plots?
Answer: This is a non-issue for several reasons.
ONE: You will want to change the names of the characters and the name of the locations, to make the story your own.
TWO: These pre-written plots will most often serve as a spark for your own creativity. You will make changes to the stories to turn them into something that is more appealing to you. Some people take out scenes, add scenes, merge multiple plots into one, and divide a single plot into several books.
THREE: If you and I started with the exact same outline, both of us will absolutely create completely different stories. In modern storytelling, Star Wars, Harry Potter and Percy Jackson all were written with the same basic foundation — the Heroes' Journey. I think you would be hard-pressed to suggest that any of these stories were the same.
The bottom line is that no matter which single plot we take, all of us will derive a completely unique story from it. Our customers will not know that we all had a similar starting point, nor will Amazon consider our books to be duplicate content.
Question: Why don't you just use these plots for your own books?
Answer: I developed this program as a result of several of my customers asking me to help them find plots that they could use for developing their own stories, and more specifically, to help them develop a future book series.
I have been providing training and services to writers since 2001, so when enough people had requested something like this, I decided that I knew how to find and hire the right people, so that is what I did.
So far, I am hearing wonderful success stories from my customers about how this program has been able to help them produce more high-caliber fiction stories. It pleases me to hear such stories.
Myself, I am a nonfiction writer. I write awesome nonfiction. But to bring this program to life, I HIRED some really talented fiction writers to make sure that you will get outstanding fiction plots that you can use as the basis for your stories.
When I produce training for fiction writers, that is always written by a ghost writer.
I have dedicated most of the last twenty years to helping writers become the very best writers they can be.
And when I was asked to provide extra help to fiction writers, I took my skills for hiring great writers and giving them good structure and direction, and I applied it to this program.
This is an outstanding program that my customers continue to appreciate and value.
Question: How much money can I expect to make using your plots?
Answer: I am not the right person to answer that question. I have no idea what you will do with these plots, or how much effort you will invest into your books. I have no idea if you can even write a decent story. I have no idea if you will create a good title, an attractive book cover, or a book description that will convince people to buy your books.
There are simply too many factors to consider for anyone to estimate what you can earn as a result of your gaining access to these materials.
Question: What if I have more questions?
Answer: Send me an email at: support *at* fictionplots.com.
Be aware that I will respond from my global support email address at: support *at* thephantomwriters.com.
Question: Once I actually clicked your BUY Button for one of the subscription options shown below, I noticed that Paypal indicated that the subscription payments would be collected for Five (5) Years. Does this mean that I will be forced to stay with this subscription for the entire five years?
Answer: No. You will be able to CANCEL AT ANY TIME.
Just send me an email at: support *at* fictionplots.com to request for us to cancel your subscription.
With my "payment processing software", operated by JVzoo.com, I must choose between accepting a single payment OR a subscription payment. If I choose the subscription payment option, I must define a MAXIMUM NUMBER OF PAYMENTS.
My preference was to let you stay in the program for as long as you like, but that was not an option I could select.
So, I defined a MAXIMUM of five (5) years:
$24.95 billed monthly, for five years, will be a MAXIMUM of 60 payments. (Should you choose this option, you will be able to CANCEL AT ANY TIME. Please allow me up to 72 Hours to respond.)
$69.95 billed quarterly, for five years, will be a MAXIMUM of 20 payments. (Should you choose this option, you will be able to CANCEL AT ANY TIME. Please allow me up to 72 Hours to respond.)
$249.95 billed annually, for five years, will be a MAXIMUM of 5 payments. (Should you choose this option, you will be able to CANCEL AT ANY TIME. Please allow me up to 72 Hours to respond.)
$999.95 for the Platinum Membership, gives Lifetime Access for one single payment.
There are NO MINIMUM PURCHASES REQUIRED.
You may CANCEL AT ANY TIME. Please allow me up to 72 hours to respond.
To request a cancellation of your re-bill agreement, just send me an email at: support *at* fictionplots.com.
Question: What genres are you currently creating plots?
Answer: Half of our plot authors are creating plots in the romance genre, and the other half are creating plots in a wide range of alternative genres.
At this link, you can see the Last 500 Items Added. You will find the date posted, the genre of the plot, the title of the plot, and a link to the plot.
However, in order to see the linked content, you must be a paid member with the website.
Pick Your Plan
You May CANCEL YOUR SUBSCRIPTION At Any Time.
Please Allow Me Up to 72 Hours to Respond,
As I Do Have a Life Outside the Internet Also.
FictionPlots.com Purchase Options
$14.95
Cooper Brothers Plot Series
Stand-alone Offer
Regular Price
$24.95
Monthly Subscription
$69.95
Quarterly Subscription
Save 8%
$249.95
Yearly Subscription
Save 17%
GOOD DEAL
$999.95
Platinum Membership
One-Time Payment
BEST DEAL
P.S. If you have any questions about this program, drop me a note
at "support ~at~ fictionplots.com". I'd be happy to answer your questions.
P.P.S. You may cancel your subscription at any time. Just
send me an email at "support ~at~ fictionplots.com". Please allow me
up to 72 hours to respond, as I do also have a life outside the internet.
Ponca City, Oklahoma USA